Beautynomics Prom Special Part Two
The Beautynomist as Prom-sitter

PROM PROM PROM PROM PROM. Well, it was just one of those nights that I could never forget. Since my school was coed, we didn't have really dates that we chose ( teachers assigned our dates, with ratio 2 or 3:1 in favor of the boys ), so it was more of a fun night with my best buddies. I just had a blast preparing for it, and attending it, that I just couldn't let go of the wonderful experience - hence, extending my help to my younger sister, who was just always dependent on me for beauty advice ( Can't blame her, she always gets the best results! ). Of course, as my dearest sister, I had to make sure she looked like a goddess, not some godmother or granny, or any prom girl disaster slash nightmare. I just had to made sure no one insulted my sister ( or else, I would have stabbed her with my lethal lipstick..whapak! ) , for that matter, so it was a must for me to pick the right dress, pick the right accessories, and pick the right look :)

Anyways, back to the story. Whatever happened after our fun makeup session?
Well, we went straight to the hotel suite. I asked them to change, so that I can do my "finishing touches". I brought along with me my "emergency makeup bag", and laid them out on the table ( Oh boy, were they surprised! Hahaha )
Wow. Their looks are complete. Makeup + Face Makeup. Well, not quite. NOT QUITE!
I got my brush and went to work. First, I applied finishing powder to their faces. Now, after makeup ( foundation+blush+lippies ), it is a MUST to apply finishing powder sheerly to your face ( include the lips ) to be able to "set" the makeup - keep them into place, and prevent "melting" or fading prematurely. It gives your full makeup a whole lot longer lasting power. So people of the world, please include the term "finishing powder" to your makeup list, and "finishing" to your makeup routine :) Transluscent powders would do great in this.

After that, it still wasn't quite finished. With the perfect faces, the upper chest ( or the visible flesh area ) must look really smooth, and clean. Prior to their makeup session, I already asked them to take a shower, and use an exfoliating product for the body - to reveal new, and glowing skin. To further enhance the bare skin, I applied bronze shimmers. Now , they are officially princesses.
Pretty women, yeah, yeah yeah :P

After some spritzes of fragrance ( I recommend EDT or EDP for a night-long alluring scent) , Tadah, tadah, and mega tadah! I love my girls! Very cooperative girls. They entrusted their whole selves to me, and of course, they weren't disappointed!
The purse. Must haves? I suggested these.
PROM PURSE MUST-HAVES
The staples - A small pack of facial tissues , mobile phone, and some money
Blotting paper -for oily skinned gals. There's a huge difference of a tolerably oily face ( some glow, but not too oily. This happens a lot. ) , and a face too shiny that resembles a sun's glare - very hurtful to the eyes. )
Lipgloss - goodness, people, we're eating dinner! The glossies will definitely go away, so there is a definite need for retouch.
Bloom Lipgloss Mini's - they fit into your tiny purse! Couldn't find a picture, but they do have a smaller one @ the Beauty Bar!

And If your purse can handle it - a small compact of pressed powder. Retouch!
It was still early, so we went crashing to other hotel suites while I was having fun taking pictures. ( I look young, so I don't have trouble blending in..kidding! I wish. ). Some girls were still having their makeup done, and some girls were being cam-whores that we had so much fun in our photoshoot! ( me = frustrated photographer ) I loved the bathtub scene. Hahaha
The Bathtub Scene! Do you know..where you're going to?

The supermodel-pout! hahahaha :)

I was almost about to leave, and meet my friends at Glorietta for makeup shopping and dinner, but I was having too much fun socializing with the girls , I felt like I was one of them! ( teenagers very excited about the day. Well, my sister claims that I was the more excited one than her, or even half of her batch! Haha =) )
Left : Ladies in full bloom. Sigh. Right : Sigh again, the glow of youth! =)

One observation. Just to teach these pretty teens to better prepare for prom, or whatsoever occasion in the future! The biggest culprit for ruining something beautiful - back pimples. Back pimple scars. Wah!!!!
Want to sport that sexy-back look? A sexy back is one of the most alluring sights ever created. I swear, a sexy back works wonders for any girl! =) Baby girls, after high school, you're free to wear anything you want! Some would go daring, some would go skimpy, but do it right! With a flawless back! :P

I know it's a natural thing to have pimples every now and then, but back pimples should be erased off your back whenever you want to sport a backless, tube, or any outfit that would bare your back. Don't even think that your hair can cover it. When you try to flirt around and flip your hair, you're dead!
So, my biggest advice to those who have back pimples/ pimple scars, try to get rid of them! Mostly, they come from sweat. Sometimes, they come from your shampoo as well.
One product. VMV Id Soap ( found at leading department stores nationwide..) . Price? Rock bottom. Effect? A flawless back minus the pimples ( thanks to the salicylic acid, it zaps the zits ), and no traces that you ever had a history of back zits ( thanks to the buffing effect ). Although, if your zits are still fresh, and painful, try to rub the soap with your hands first, then just gently apply the lather to your back. Too much exfoliating can make the zits worse. It's way better than using a concealer. Other alternatives, any product with salicylic acid on it. Applying a thin layer of panoxyl on your zits after shower ( a thin layer, too much will burn your skin ) can also be alright. Oh, right, Acne Aid's okay too ( it's a bar of soap ).

Other preparations a month before the prom , beauty- wise, are as follows :
1. Have a
home-hotoil treatment or deep conditioning treatment for your hair
twice a week for a month. ( would only cost you at least 300 pesos a tub of
Alberto Culver Avocado Wax
, or if you prefer, a pricier yet nicer one,
Kerastase Masquintense
)
2. Try to
whiten your underarms!
Wash all your deodorant residues every night, before you sleep.
Tawas
can actually help, and
calamansi
( applied to underarms with a cotton )
3. Staying away from
fatty foods, eating fresh fruits and veggies, and sleeping early, for bright eyes, and glowing skin.
Like I did with ampalaya. Gosh, it was a huge sacrifice for me!
4.
A few days before, have a pedicure and manicure.
You don't want your nails to be all red on prom night, right?
Anyway, I left the hotel a happy, and proud sister. I just experienced a gazillion utils ( meaning utils can't even measure it since it's too much ), as my heart was overflowing with joy that my sister was indeed blossoming into a beautiful lady.
It was ladies' night after all! :P
Did I behave just like a beautynomist ( in other words, ME?) Definitely. Economists love efficiency - I sure was one efficient prom-sitter there! I did make sure that everything was perfect for my girls. I made them reach their highest satisfaction ( with their great looks ) at the least cost possible, without compromising quality. And, I was a public good! ( meaning : everyone benefitted from me, while I gave away my service for free. ) I was the photographer for my sister and friends, as well as the emergency makeup fixer! So there you go, mission accomplished :P
High school rocks!
( My supply and demand installments are way delayed! Watch out for it. I have another special for next week, too! Stay tuned =) )
Beautynomics Prom Special, Part 1 - Makeup
Prom
, in a girl's perspective, must be one of the highlights and memorable events in her teenage life. It's all about over-
preparing, dressing up really pretty in elegant formal wear, dancing the perfect night away, with a date, or with friends.
It's all about being a princess for a night.
I remember how I ate ampalaya for a month just to clear up my skin in time for my prom ( I succeeded hehe ), and how I scouted for really good makeup artists to have my makeup done.

If you ask me if I remember my classmates' gowns during our prom, I say I don't. If you ask me who did their makeup, I can answer that. I think I've memorized their looks for the night with their corresponding makeup artists/salons. hehe :) (sheesh, it's still crystal clear to me, and it was 5-6 years ago already. )
My sister asked for my help for her prom because she thought I was the best person to help her out ( hehe it was an obvious choice ). So I did my job, and scouted for a really good salon that can offer really good hair and makeup,
without the steep price tag
. Her classmates were in
budget
, and were not willing to splurge too much, since their gowns were already expensive enough. Yeowch, I can feel their wallets in pain. The makeup artist that did such a good job on me during my prom quit his job already, so I couldn't find him. So I tried to recall my past prom which made-up look I loved. And I booked a month in advance, with
Watercolors Salon
.
Watercolors Salon
is situated in the vicinity of
West Avenue
( near
Tomas Morato
area ). You turn left to Zamboanga Street, and find signages leading to the salon. Upon arriving there, we were pleasantly astonished to walk into a pleasant-looking salon -
a spa-like entrance, with welcoming sounds of water coming from the fountain (very therapeutic).
Upon entering the salon itself, we were graced with a very
spacious ambience
that you could walk around inside the salon.
Such a relaxing ambience!
Spacious workspace!

As my three girls ( yes, I was tasked to take care of three girls - my cousin, my sister, and their good friend ), sat down, I watched their artists do the work. Proprietor/Creative Director Val dela Fuente, and Senior Artist Ghie worked their magic on my girls - making use of the impressive array of colors in their palettes (woah, they really have ALOT! I was swooning at their collection ) to transform my girls from simple schoolgirls to breathtaking beauties within one and a half hour. I The guy who fixed their hair wasn't bad either! He was super great with his job. Waves were so in, so I asked the hair stylist to style their hair with various kinds of waves. :)


Watercolors staff doing their magic!


My beautiful girls! =) I'm so proud it's making me cry! But I have mascara on..hold it!

Good thing we were first to arrive, because in the middle of our makeup session, other clients started walking in, as they just waited for us to finish, and others transferred into another room for other services.

While my girls were having their makeup done, I was also busy checking the place. At the counter, I swooned with their array of makeup for sale, and also really nice makeup brushes! Watercolors prides itself for having its own line/brand of makeup - lipsticks manufactured in Germany, while powders and eye shadows made in New York. They carry the professional line of ArtDeco makeup brushes - I love them! I was almost tempted to buy a 6-pc. brush set with an attractive pouch, but they didn't accept credit cards!! ( that was a sign for me not to overindulge ).


Swoonlicious palettes....wishing I could take me home all of these..:P
My girls were very happy with their hair, and makeup! I could see it in their faces, and of course, smiles! ( their puckers were applied with very unique, yet very attractive lip colors! ) And my wallet was happy too. For such great service, and impressive hair and makeup service, plus relaxing ambience, the
Creative Director only charges 950 php
( $ 18 ), and
Senior Artist 850 php
( $ 16 )! It was almost unheard for such reasonable rate to exist . I know another salon which charges the same, but the girls come out more hideous! ( Sorry ) I usually don't trust salons who charge this price so friendly - some might use sub-standard makeup, some might not even be skilled enough to do it well. But this?

This is heaven-sent!
Overall, we found a rare gem in Watercolors - great , great service, with a really reasonable rate! :)
With the Watercolors staff ( left - right ) : Creative Director Val, Senior Artist Ghie, and the guy in blue, the ever kalog hairstylist ( didn't get your name! Dang..)

Makeup, as I always say, can make, or break a person. It can transform a frog into a princess, and a princess into a frog. There's no such thing as looking better without makeup. It's how the makeup is done. Kevyn Aucoin,the acclaimed makeup artist, in his book, even transformed a man, into a woman through makeup.( I hardly distinguished it ). So it's very crucial, in preparing for a prom, to find the best makeup artist you can afford. It's up to you if the price is too steep, or just worth it. After all, people have different opinions of whether the price is too much, or not.


P.S. They also have another branch, located in Shangri-La Mall :)
To inquire about their services, here are the contact details for Watercolors Salon :
25 Zamboanga St., West Ave., QC Tel. No. : 376-4323
406 Shangri-La Plaza, EDSA cor. Shaw Blvd., Mandaluyong City Tel. No. : 633-0670

Skin Care Regimen-O-Mania

To follow up on my previous entry , fearlessly preaching how big a mistake it is to miss out a religious skin care regimen, here's some tips on how to keep skin clean, and clear ( I am not promoting that brand! hmph ! :) )

Here's the beautynomist's prescription :

AM BEAUTY REGIMEN

* Wake up. Rise and Shine!
* Take a bath, a luke-warm shower, perhaps
* After your shower, your skin's pores are open, so it's the perfect time to wash your face.
* Grab your favorite skin cleanser. Get a pea-sized, or the amount that you would need, and start massaging your face with it in a circular motion. Not too long. 25 seconds?
* Rinse with lukewarm water
* PAT ( do not RUB ) your face with a towel
* Get a cotton ball, put some toner in it.
* Gently, gently rub the cotton ball in your face in a circular motion, upward-outward motion. You can see, traces of dirt will be seen on your cotton balls. The toner just did the more intensive cleansing- the insides of pores.
* Now, your pores are cleaned, refined, and closed.
* Grab your favorite moisturizer with SPF. Apply to skin, gently massage in circular motion.
* You're ready to go! Apply makeup, or go on without it ! :)


Your Momma's Best Kept Secret! :) Olay is acclaimed to be one of the best moisturizers, ever!
LUNCH BREAK EFFORT

Try The Body Shop's Vitamin C Facial Spritz
* Skin gets either really dry, or oily. Get your moisture mist! Evian? Nu Skin? Anything to refresh the skin! Spray, spray, and refresh yourself! :) Get some blotting papers and let the oil settle there, not on your skin. Don't touch your face with your hands! They're probably dirty.
GOING HOME ROUTINE
* Probably, dirt has accumulated in your skin. It is most important to get rid of it. Don't let dirt stay in your skin for long. It does horrible things like breeding a zit, or worse, a milia ( the toothpaste-like-one ) You can do your cleanse-tone-moisturize routine, with moisture mist as moisturizer since you're going to moisturize later before sleeping, anyway.
BEFORE-BEDTIME REGIMEN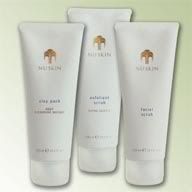 This is the ONLY exfoliating scrub I know that's not abrasive on the skin.
Nu Skin Exfoliating Scrub, Gentle. Spherical-beads-galore! :)


* Do the
cleanse-tone-and moisturize routine
. But twice or thrice a week ( note : don't do this consecutively ),
exfoliate
. This buffs off your dead skin cells that you have accumulated ( we all have this ) , and gives you
a whole new layer of fresh, glowing skin
. After cleansing, do this. The buffing feeling is great, but
don't overdo it
. Keep it brief, say,
20 seconds
again?
Overdoing this can stimulate oil glands to produce more oil, so don't don't don't overdo! If you have pimples, isolate those spots and exfoliate around that area, don't massage it with the clear-skinned parts.
It spreads the germs. With moisturizing, perhaps you have a
night cream
- something heavier, that can revitalize, and repair your skin. Opt for something repairing and moisturizing for the night, and something light and with protection during the day.
Treatment
* If you have pimples, apply blemish gel on the pimple, with a light coating. Can be used in the morning, or in the evening.
The perfect assassin , with no traces, of blemishes and pimples!
Lancome Spot Controle
Other tips, that just popped outta my mind :
* Soaps are a no-no. No matter how they claim to thoroughly clean the body, remember, your body skin is way thicker than your facial skin! The face is very delicate - using soaps would strip the skin of moisture. Don't you feel that your skin's so tight when you use soap? That's a bad sign. Facial skin, needs moisture. Without it, facial skin would be dry, even dry and oily at the same time for oily-skinned people ( that's the yuckiest feeling in the world ), and it would earn the least-coveted wrinkles in no time.
* Keep your skin from a very safe distance from anything scratchy, abrasive, and scalding. These kind of things can really cause your skin to be really red. It HURTs the skin. So, if choosing an exfoliating creme for the face, make sure you choose non-abrasive ones that don't scratch the skin. Spherical-shaped beads would be great.
* SPF is crucial ANYWHERE. Inside the office, inside your classroom, and even inside your room. EVEN in front of your pc! All those lights, really damage the skin. Protect yourself!
* It is important to know what skin type you are to know what products would suit you. For normal skinned people, they can use almost anything "normal". For oily skinned people, they need oil-free products, water based products are more desirable. For dry-skinned people, they should stay away from alcohol-based toners, and use moisturizing cleansers.
* For oily-skinned people, resist the urge to wash your face everytime you feel oil in your face! Too much washing can stimulate your oil glands to produce more, hence, making your skin a whole lot oilier. Doesn't help. Stick to blotting paper, or a clean towel :)
* This ideal skin care regimen must be twinned with keeping yourself healthy - drinking your daily dose of multivitamins, Vitamin C ( an antioxidant ), drinking at least 8 glasses of water, eating fresh fruits and veggies ( I'm thinking of my Ceasar Salad again...wah..) , and sleeping at least 8 hours a day. I almost forgot to mention this, thanks to
Kars
!
Kiehl's , coming soon in the Philippines! =)
This moisturizer is oil-free, non-greasy, and suited for all skin types :)


What's your skin care regimen? what products do you swear with? Tell me! Click comments, and type away! I'd love to hear from you :)
* lots of tips, in my succeeding entries! :)
Technorati Tags :
skincare
,
regimen
,
beauty
,
kiehls
,
olay
nu skin
,
lancome
,
beauty products
,
spf

Scarcity of Beautiful Faces, and Opportunity Cost of Skin Maintenance


One of the jargons, that I happen to absorb quite well during my first few days as an Economics student were the terms,
"scarcity"
, and
"opportunity cost"
. They're one of the few basic terms taught to Economics students before things get harder. hehe :) They might sound simple, at first, but there are some important ideas presented by these two terms.
Scarcity
, in layman's term ,
is the lack of something
. In this world of ours, no matter how boundless the resources are, face it, our resources are most limited. For
people
like us,
we don't have all the time in the world, all the money , and all the talents and skills.
For bigger
societies, countries, and companies
, they have limited resources as well -
their factors of production - manpower, capital ( money, or land ), and technology
. No wonder hyperbolic and fantasy films (
Richie Rich...Princess Diaries
) always earn - men have always wanted to get everything he needs.
That's okay , as one of my professors told me, the world can provide every person's needs. The worst part is, men, by nature, have always wanted to fulfill their wants, as much as possible. Want is such a strong term, because it is synonymous of the word, "whim". The world, is not enough ( yes, this was a James Bond movie. That's how strong my point is. hahaha:) ) for even one person's wants.
So to sum up,
scarcity arises with the problem of this world, having limited resources, with man's unlimited wants!!
! With scarcity, say, we lack money, we are faced with a tough decision - where to spend our money with.
2 Maybelline Eye shadow trios, or 1 Shu Uemura Eyeshadow?
With scarcity in terms of time, we are faced with another tough decision.
Sleep 20 minutes earlier, or spend the twenty minutes giving yourself a home facial?
For the
cosmetics companies
-
allot budget for technological research ( to make the products better ) , or just do away with huge budget promotional ads?
( I say, don't cheat on us! We want good products! and good ads :P )
On the other hand,
opportunity costs
, is another term for
foregone costs
.
Costs might be numerical in value, or something not numerical as well
.
It is the cost that arises when you give up something to get something else.
Given that we have scarce resources, sometimes we have to choose, and there are alternatives presented to us.
Choosing one alternative, would cost us the value of the other alternative that we didn't choose
. Too much to read? Read on, I'm about to drive to my point in my beautynomics paragraphs just below this.
In this world, I believe, there is a scarcity of beautiful faces.
I do not intend to insult people that they are not beautiful. Beauty, I agree, is in the eyes of the beholder. Beauty is relative. I don't care that much for
shapes of noses, skin color, irregularly shaped body parts
. Goodness, they're God's gifts. There must be reasons enough why you are like that. Remember, society dictates what beautiful should be like. If society can do that, I can also dictate what beauty should be like, for myself. For me, beauty ( let's peg it at face-value ) is having a well-maintained face.
A clear one.
Some people don't value skin care as much as I do.
Having a bad experience with it, in my teenage years, I think I'm one of those people whose efforts were the most to keep myself looking good -
zapping blemishes, redness, and aiming for a glowing, fresh skin
. I mean, even if I don't look good in the eyes of others,
they sure wouldn't complain about my skin, my hair, or my what.
For me, a well-maintained face is beautiful already.
Again, some people don't value skin care as much as I do.
They're fine with
occasional pimples, or permanent pimples, blotchiness , and protruding whiteheads * wahh...nightmare *
. I mean honestly, can you live with that?
Whenever someone looks at you, they
STARE
at your one , throbbing,

red

spot in your skin. One lone

zit

takes all the attention away from your radiant personality. One

sole bumpy bumpy zit

causes you to be discriminated.

It takes it all away from you!!!!!!!!!!!!!!
That's how unfair life is. So, convinced? You need to be! (
I am the brainwasher..haha kidding
)
The world needs a fresh supply of clean, and clear faces.
The major scarcity that people face as hindrance to have clear faces, is

TIME

.
People, refuse to allocate some of their
TIME
to properly have
a routine of cleansing
( exfoliating 2-3 x a week) ,
toning, and moisturizing ( and treating ).
Believe me, investing
20 minutes
of your time everyday ( 10 min morning, 10 min before bedtime ), and you're a step closer to clear skin! Why?
Cleanse

- Cleans your skin, gets rid of the oil and dirt accumulated in your skin
Exfoliate

- Sloughs off dead skin cells. We accumulate dead skin cells everyday that causes our skin to look dull, lifeless, and with no glow. Boring skin. Exfoliate! It gives you glowing skin =)
Tone

- Not everything washed with the cleanser is removed. Toning cleanses your pores, restores your skin's PH balance, and refines, and tightens your pores. Open pores attract more dirt, ya know.
Moisturize

- skin , without water is like lips without lipbalm. Moisturizer makes your skin look more supple,soft, smooth, and younger.
Treat

- kills, and even prevents zits! ( Blemish-control )
It's actually a winner! But still,
other people still prefer studying, or watching tv, or even, sleeping than doing the skin care regimen
. There comes the
opportunity cost
.
When you forego doing your routine for sleeping earlier, you just lost your opportunity for great skin
.
Do we have a cost attached to it? YES, definitely.
You run the risk of accumulating more germs in your skin , hence a zit ( pimple ) in the next few days. You earn a zit, you lose ALOT in your self confidence. You hide in your room, you couldn't even walk with your head up high. So, was that something valuable that you just forewent? Definitely, YES. You might get eight hours of sleep, for goodness sake, but you sleep with your skin dirty.
Doesn't make sense.
I say,
the Opportunity Cost of a skin care routine is sky-rockety-high!
The costs associated with
NOT
availing a skin care regimen, is
SUPER HIGH
(*
alarming tone.hehe I'm DEAD SERIOUS!
). So don't ever, ever exchange this regimen, or twenty minutes of your day for something else! Goodness, it's
ONLY twenty minutes
, it can work
wonders
on your well-maintained skin.
It can gain you friends, earn you compliments, and turn some heads!
But foregoing this opportunity of having great skin, is
deadly
. Just think of the consequences of having bad skin.
Physical (

swollen , burned, or whatever bad!

), Emotional (

bubhye, self confidence

), Financial (

a trip to the derma again?

)


Twenty minutes of skin care a day, keeps the dermatologist away! :)
(I just copied Yakult, and the doctor )
Up next, my supply and demand series!=) Watch out for it :)
A Love Story
Here's my love story. I know nobody's going to read this since it's Valentine's day, everyone is out with their loved ones, and I'm one of those people left in the city who is still busy staring, and typing on the computer screen as if it was a normal day. But that doesn't mean I don't have a love story to tell.....
Love at first sight....
When I was very young, I would gaze adoringly and wondrously at the breathtaking models in commercial ads. I wanted to be like them- very fresh, beautiful, and head-turners. I was so addicted to watching commercial ads with beautiful girls, as they apply face powder , boys go chasing them. It was love for me.
Forbidden Love...
That was when I was aged eleven. I would always bug my yaya to buy me the face powders featured in TV ads, and give some of my allowance to her to buy that during her day-off. My mom absolutely forbid me to wear those products because I was too young to do so. Whenever my mom wasn't around, I would sneak into her vanity mirror, apply the face powder I just bought, use some of her lipstick, eyeshadows, and blush-on, and smile at myself. Pretty, pretty. I bet boys would like me. I just wore the model's powder! =)
Sometimes the youth, are reckless. Too much innocence, disillusioned by a disappointing awakening.... Mistaking true love for something too good to be true...
Instead of being more beautiful, I was in for a horrible realization. Those products made my skin breakout, as early as age thirteen. Short on budget, I was, I bought skin care products available at groceries, said to be for baby-skin, and used them during highschool. It didn't get well. I was freaking out , for during my age of puberty, my age of "self-consciousness", I was pimplish, my skin was horrible, a boy I actually liked, told my friend that he identified me as the girl with the pimples.
Desolation. Feeling lost, disillusioned love creates more confusion within thyself. Looking for solace, looking for more love.
My desperation caused me to be more confused. I was seeking for something to hold on to, something to cure my dreaded skin problem that I caused. I switched from brands to brands, wasting alot of money. My skin was the "immune" type - products work for a week or so, then after that, results stop from coming. It was heartbreaking. I had nowhere to go, nowhere to run to.
Then on an unexpected moment, the one for you arrives...
I stumbled on a brand that was not only expensive, it was VERY expensive for me. As a student, I had limited budget..but I took the risk. Bugged mom that it might be my saving grace, so she nicely gave me some money to buy a set. To my glee, it was a miracle. Pimples started clearing up, my skin started to get really smooth and flawless, I was glowing...
Sometimes, people are too blind to see that love is in front of them, that leads them to go astray...
With my stubborn attitude, I stumbled on another brand - which claimed it was better. Despite my friend's warning that I had to stick to what was working for me , I stopped my skin care, and switched to this. It started alright, but as other skin care brands did to me, it didn't last...I deserted this brand, and looked for other brands that would help me. I found a brand that was actually good enough for my skin, and used it for years, even though it didn't give the amazing effect that I experienced in my past, favorite brand.
Love has its way of conspiring with the Universe to bring back those who are meant to be together...
After college, I had a good job ( hello, my dad as my boss? cool! ) , and of course, I started to have funds of my own. When I noticed that my toner was in shortage, I saw this old catalogue of my favorite skin care brand that I deserted four years ago. Why not give it a try? I gave in, invested my cash again for that, and the rest, is history...
The pain and the hurt can go away, but it will be scarred in the heart for a lifetime...
Despite my finding "the one", it was still visible and evident that I suffered from my past brands - some little scars, discolorations, etc. Some will eventually fade away, some won't. Thank God for dermabrasion, laser surgery, and diamond peeling, they can go away!
Once you've found the one, don't ever let go...
I found out that the effects of that certain skin care brand was still great on my skin. It
brought back the glow in my face, made my skin a whole lot clearer, and with my new beginning again, I shall never exchange my favorite skin care for another, no matter how much promises they give to me. I'd be a total fool, if I do so.
The end! hehe =)
Postface : Grabe, I just got home, my mom sure wasn't kidding when she said that Valentines Day equates to heavy traffic. I was swarmed with work, again, and it was my sister's "fitting-the-promdress-day. " I must say her dress was gorgeous! Of course, she's gorgeous - being a svelte beauty graced with height ( unlike me ), her Louis-Vuitton inspired dress looked qualified to walk the red carpet in the Oscars! hehe :) It's another entry! :) Anyway, I drowned in my Crunch chocolates - the only thing I have in the fridge. I swear, I'm never buying Ferreros for myself anymore. This entry is in the spirit of Valentine's day. I am not alone, I have my skin care with me, loving me, and taking care of me =)


Extra Notes : HELP! Who's an expert of RSS/Atom, whatever you call that? mine's pretty f*cked up! And meta-tags, whatever you call that, too! Help, help, help :) Help me reach my message across my targetted audience! hehe =)


Full Coverage....


Saturday night was a blast. Attending a lovely wedding of my friend's brother, sisterhood bonding with my coolest college girlfriends - it was one precious night. Everyone was so dressed up, in full makeup - Oh, how I love the sight of beautiful people.
Gorgeous women flaunting their curves in their gowns, and dashing men in their best barong
. ( or only haha )
I was dropped off after work ( yes, I was plagued with work last Saturday ) at Katherine's house, and to my glee, I was an hour early. Looking at her face without any makeup on, I so wanted to do her a makeover - I want to do everyone makeovers. When she saw the vanity kit I brought - and I laid them out in her vanity table, she got all confused - I think it was way too much! hehe :)
Our full coverage makeup was summed up as follows :
1.
Makeup Base
- We used
tinted moisturizer
as our
makeup base
. The beauty of tinted moisturizers, is that
it makes your skin look very evenly colored, gives your skin a very healthy glow, and if you're lucky with a good brand, gives you a very flawless look.
It works wonders!
2.
Concealer
- Used my concealer to conceal my undereye circles!
Get one shade lighter than your skin tone
. The trick is
pat lightly
under the eyes. Too much would make you look like a ghost. hehe :)
3.
Foundation
- I used my reliable wet/dry pressed powder and applied my foundation using a sponge spritzed with Moisture Mist ( never use tap water...Evian can suffice ). Katherine used her
Clinique Foundation
in powder form.
* tip : skip foundations, or any powder for that matter, which contains talc. It looks cakey on the skin! Settle for mica, or rice starch. :)
3.
Brow/ Eye Makeup
- We applied some color to our brows to give it more shape. Used
brow brush
+
dark brown brow powder
to do that. Now comes the fun part -
the eyes
! I was in a very adventurous mood with Katherine's eyes. Being a
gorgeous chinita
that she is, and wearing something earth-tone, I mixed hues of
brown
on her eyes. A wash of
light matte brown
on the whole eyelid, a
glimmery blue-brown
shade on the crease, some other
deep hue of brown
to mix with the gimmery blue-brown for more drama, and a
shimmery yellow-bronze
on the browbone for highlight. I was actually very surprised with what I have done to her eyes -
I did a great job!
( Yes, I can be the next
Kevin Aucoin
! , kidding ) . I actually realized, effective today, that really,
my powers only work for the good of others!
I wasn't really thrilled with my eye makeup -
purplish something
. Next time, I'm buying a vanity mirror that I can magnify anything, to help me with my eye makeup!
4.
Blush
-We're gals who have oil glands that have a mind of their own, like rebels in highschool ( in short, oileeeee ) so we used
powder
blushes. I used my ever reliable
NARS Orgasm
- a peachy-pink shade that is said to be the most flattering shade for anyone ( universal shade, as they say ). I liked the effect on me! Katherine used her
Shiseido blush
- I actually liked it! It was very baby pink-ish with shimmers in it , and I can't find it anywhere online! Maybe it was a limited edition product. I can't even read what it was because the label was all in Japanese
. So much for my potential fairy look.
5.
Lipgloss
- With the wedding reception to be long, and will involve eating, we needed something that would stay on our lips. I used a lipliner to make my lips naturally colored, then applied
Lancome Juicy Crayon
( 02? It's red ). To coat it all up, I used something I just purchased...
L'Oreal Glam Shine Sorbet in Strawberry
. It has a luscious look to it since it's very glossy...and pink. Katherine used her reliable
Clinique lipstick
- I didn't get the shade, but it was
glossy nude
. Very sexy.
6.
Over-all finishing
- Some people just finish their makeup after the last swipe of lip product.
I beg to disagree.
Makeup has to be set, no matter what, to stay put for the night.
I introduced Katherine to my ever-favorite finishing powder.
Finishing powder actually sets your makeup, refines your makeup
( because some foundations aren't perfect. they tend to cake. ( mine doesnt!! but I'm segurista )
It makes your skin look so luminous and perfect like a porcelain doll. Well, just something close to that.
We used a huge powder brush for that, tapped some powder to the lid ( the container ), swirled the powder brush to get the finishing powder, and tapped to set aside the excess amount. ( I got this technique from
Bare Escentuals
. They teach women to do this with their product ).
The brush strokes have to be up- down since facial hair grows downwards. ( You can't defy it, or else, it gets more visible ).
Tadah, we're done! I must say we experienced maximum utility, or satisfaction with the way we looked that night. We headed to the hotel, and met up with other girl-friends. We also saw some girls all dressed up - there was a prom! Ohh...I feel like a young girl again. :) It just seemed like it was yesterday that I dressed up for my prom - dyed my hair black to look like Snow White ( hehe, I try! ), and put on my princess-like purple gown to enjoy the night away on my Senior year. Now, it's my younger sis, who's 4 years younger than me, that will be having her prom next week. .... I'm also excited for her! :)
Anyway, when the night was over, we just crashed to Starbucks, near our old school, for drinks. Like old friends, old classmates, we chatted the night away like college students...like we used to do.

Economics in the Name of Vanity


If I were a professor ( which I've always dreamed about, but I really do hate math, Economics tamed my "hate" for it, but just a little bit ), I would be scolded for a very bad lesson plan. Jumping from one topic to another without even introducing my theme. Well, it's time. ( sounds serious..! )

What actually is Economics? Economics is such a HUGE term that there are tons of definitions for it. In my college ( and I think, most colleges ), there are Bachelor of Arts and Bachelor of Science in Economics. Economics can be found in two buildings as well - that's how complicated it is. I chose the Science, silly me, so I had to face more more math. But I almost got dumbstruck when my classmate taking B. Arts of Economics had shown me his book on Structural Economics. It was a total nightmare. My bronzer didn't do justice to my sudden pale valor as I read the highly mathematical book. I appreciated my Forecasting class right then and there.
Economics comes from the greek word
oikos

( house ) and

nomos

( rule )
. It's actually summed up as the
"management of your household"
. The most basic definition of Economics , is the
study ( or the science ) of the decisions/choices of individuals to meet their needs and wants given scarce resources.

Scarce resources. Everything in this world is limited. Food. Land. Money. Even Makeup. Look at the Nars counters. They're empty, and people still want more blushes. Actually, if everyone satisfies all their needs, I think we can share a very nice world, but man by nature, is insatiable - the more he/she gets the more he/she wants. Even the woman with the most number of lipglosses in the world ( The Guiness World book holder, who are you ? ) would still want more. So it gets more complicated.
Now, the main goal of Economics is
equilibrium
. Equilibrium is perfection for economists.
Supply is equal to demand
. Some other terms that economists like are
maximization
, and
optimization
. I know it sounds complicated,
but finish my blog entry!!!!
In my
beautynomics theory
, everything I mentioned above is all relevant in the name of vanity. Yes, makeup counters, skin care and even haircare ( FINE! LET'S CALL IT HEALTH AND BEAUTY ).
Health and Beauty counters are overflowing with products, but our wallets aren't overflowing with money. We are restrained by our budget. Therefore, our money, is considered a scarce resource. Given that we have a budget, we must make wise decisions on what to buy, in order to be totally satisfied to the nth power with the products we just bought, given our budget.

I'm not the type to buy too much cosmetics that their shelf lives might be due already and I haven't touched half of them. As a beautynomist, I believe it is wasting. Economists hate wasting resources. We believe in efficiency ( two words to understand that : NO WASTE. ). I want an efficient-working vanity kit - gives me good results, but also, no waste. Everything should be at least 3/4 used or even finished before their shelf lives are due. Vanity is not all about splurging too much. It's not a suicide on the part of your cute wallets, it's simply knowing what to buy , given your budget. If you don't have budget, you still can't buy low-performing products that can actually kill your skin, there are natural ways of fixing your skin! ( that's another topic )

Ten blushes can be optimal ( budget reaches the maximum satisfaction ) and efficient for an actress who wears makeup everyday , but for a normal student who doesn't wear much, one can do ( of course, we can talk about WHICH ONE blush can be all it. ).

Equilibrium. I believe that too! My supply of skin care, must be equal to my demand for skin care. Can you imagine stocking up skin care? I can't! I hate stocking up. I want fresh fresh products. Beauty products have life spans too , you know. I actually buy a new set of skin care a week before they run out. Optimality. I want to reach my highest satisfaction ( delirious, delirious happiness ) given the budget I have for my makeup. So that's why I'm always coming up for better funds for makeup since I know I won't be satisfied if I have a lower budget. Makeup is actually a crucial product - it can make, or break your skin, permanently. Why? some ingredients of bad makeup brands actually can cause your skin to breakout, or worse..dig up holes in your skin.

Is vanity nonsense? NO!!! ( whatta violent reaction ).
Do we

NEED

a clear face? YES, we do. We

NEED

to feel good about ourselves, we

NEED

to have a good reason to live. So therefore, we

NEED

to allocate some of our budget to making ourselves look good. Do we

NEED

to look like Kate Hudson? Don't be silly ! That's a

WANT

, we just NEED to look good, bring out the best in ourselves. Imagine if you change the word

NEED

in this paragraph to

WANT

. It doesn't make any sense.
I need you , like water, like breath, like rain....
So to sum it all up, I just defended by vanity campaign again. haha :)
I shall be jumping to another topic, again, in my next entry, now that I've proven a point. :P

STRESS...


I woke up today with the feeling of stress. Nothing ever compares to the irritating and defeating feeling that you get from a late night's sleep and stress. God help my body, my soul, and my undereye circles. Today, I'd be attending a wedding ( my schoolmate slash close friend's bro ), and as my bestfriend Angel jokingly tells me, I need an hour prep- time to finish all my "ceremonies" - picking out a dress, showering, and of course, the greatest of them all - applying makeup and fixing my hair. Some people might think it's absurd, some people might prefer sporting a no-makeup look, but I am no way of getting there looking as if I didn't exert any effort in looking good for a wedding. It's a rude thing to go underdressed, like I hate seeing people wearing jeans, attending a wedding reception ( blame it on my Max Factor employee aunt who always told me that ). As if I'm the one who's getting married! hehe :)
I'm gonna be in full coverage today ( my face, I can't be full-coverage-clothed. That's boring! )
With my current stressed state, my mind is blank. I've prepared entries which are very informative ( economics and beauty-wise ) but are lengthy - I doubt anyone would read them by the weekend. So if anyone has any trouble with economic terms, type in your comment, and let's see what I can do to make it easier :)
Anyway, back to my preparations.

GDP, GNP , and my VMV


One of the more confusing terms for basic Economics students and even non-economics students are the terms, GDP and GNP. Luckily, we're so based in the ever-creative country called the Philippines, that the term GDP, is natively defined as,
"Gawa ( made ) Dito ( here ) sa Pilipinas ( in the Philippines )
. I think that just made it easier for everyone. And another term,
GNP- Gawa ( Made ) ng ( by ) Pilipino ( Filipinos )
GDP
is all the output of the Philippines. Everything made in the Philippines, even products foreign firms who are based here and manufacture products, their products are considered as our GDP.
GNP
is all the income of the citizens of that certain country. Wherever their firms are based, as long as they're citizens, and listed as this certain country's mother office, it's their GNP.
Well, to make it easier for you and for me ( of course, ) I have noted a very signature example of one of the contributors of GNP and GDP in the country, and also , in
the beauty industry
! ( How can I resist ? *wink* )
One proudly Philippine brand I can boast of is the cosmetics brand
VMV Hypoallergenics.
VMV Hypoallergenics
is a brand that is proudly Filipino that already made it big internationally. Markets include Hispanic America, and more ( I saw alot of pictures and testimonials of foreigners in their magazines! ) I mean, however could you get away with having the term "hypoallergenic" in your brand? That's almost unheard of. The brand name itself sounds so promising since alot of women ( of course, even men ) are looking for a brand that they wouldn't have the trouble of "trying first" before knowing if they're sensitive or allergic to it, or not. If the brand name is such a gem, why didn't other brands also follow and name their brands " Juliet Hypoallergenics"?
Because the term
"hypoallergenic"
is such a serious term , and not to be toyed with, you have to pass strict international validation standards to be able to use that term, and VMV passed! ( coolness ) It's the first brand to be validated like such. :)
They take into great consideration the top ten allergens, and PROPERLY LABEL their products with a rating of some sort , which informs the readers if the top ten allergens are absent in this product, or only 9 allergens are not included in the product. As much as possible, their goal is to have a product that would have no allergens at all, but of course it's still a challenge. How convenient can that be for the consumers? VERY! (hehe : ) )
Their products range from
skin care
( a dermatologist owns this brand so , I could expect much ) that don't look like the conventional derma-unbranded stuff that I'm not so crazy about,
body care, and cosmetics!
:) Heck , they even have this really greasless SPF (Armada), which has the highest protection against the harmful rays of the sun!
(SPF 70 )
. Their cosmetics line is FAB. The face powders don't look cakey on the skin! That's an outrage for a price like that!
Even an American drugstore brand ( still not disclosing, email me to know ), sells their foundation @ 800, makes me look like a cornstarch model! ( You know what i mean )
And last but not the least, the pricing. It's very affordable, and yet not cheap
( careful on the term, cheap connotes poor quality, so I hate using this term unless situation calls for it )
I think the foundations costs around 600 bucks, refills a whole lot affordable, Skin Care around a thousand a set ( which is a great buy ! ), etc ( Check the counters, they're at SM, PCX, and at leading department stores! )
One thing more - it's a Filipino brand - so shades are well-suited, primarily, ( did I hear that right? We're in first priority? ) - for US!! Yipeedoodles :)
This brand has performed well here and internationally, that they have an online store already
So, how does VMV contribute to GDP? ( Teacher mode ) .
VMV manufactures their products IN the Philippines, so it's considered a contributor of the Gross National Product.
Simple as that! :)
So , how about GNP?
The owner, is a Filipino citizen. Therefore, VMV contributes to GNP!
:)
So what if VMV really hits it so big ( I hope ) and expands and goes to Brazil ?
Since the owner is still Filipino, if the products are still manufactured in the Philippines, it's still the Philippines' GDP and the Philippines' GNP.
It only becomes Brazil's GDP if VMV decides to have a laboratory there where they can manufacture cosmetics in Brazil instead of importing from us. :)
This might sound idiotic, but I think I had more fun thinking of VMV's makeup ( Love the foundation )! hahaha :) It's just so fine, I think it's one of the best Filipino brands in the market, if not , the best. :) Sometimes I am afraid to check out other Filipino brands because they're priced so low ( too low ) that I get dubious about its ingredients, if it has too much fillers ( think extenders for cooking ), or it has ingredients that are not so beneficial to the skin ( and of course, I see the faces of the users...it gets me scared :( ) . With VMV, at least it's a dermatologist's brand. :) ( They even have a clinic @ Makati! )
Check it out yourselves! It's perfect for everyone :)
Must- Try Products according to Juliet ( Don't you notice I keep on plugging products within my blog entry that it became so darn incoherent? lets segregate! )



Makeup for the women


They're stackable! Aren't they adorable?





Id Line for the Men


Believe it or not, it also targets chicken skin! Perfect for men who shave :)



-
V
MV Armada Sport 70

- for the sun-scared people. and skin cancer phobic ones. Also perfect for athletes! :) Waterproof as well :)
-

VMV Two Way Foundation

( go get the Illuminants one! it brightens the face ). I swear it doesn't cake on your skin, and it doesnt dry up your wallet as much too!!! Whee, didn't that sound fun? It's not a cheap thrill since it doesn't damage your skin. :)
-

VMV Superskin Line

- For kiddos below aged twenty ( or if you have a serious problem with pimples , or dry skin ). This line is very affordable! It was one of the products that helped me clear up my skin during my teen years :) You can purchase a starter kit, to test if the product is okay with you. Did you hear that? We have mini's! :)
-
VMV Id Line
- for men, and women. When you hit the age 20, you have to be conscious about your skin care, and I'm not exaggerating if I tell you to start on your anti-ageing routine! Also perfect for men, who shave. Eliminates chicken skin, and bumps!
-
VMV Glykeros Line
-
the anti-ageing skin care for women aged 40 and above. Many raves about this! :) Lift, Lift up your face!


-

VMV Id Soap

- This has got to be the most effective product to eliminate back pimples , which only costs 189 pesos . Ain't no buffing soap cool enough ! :P I can swear on this one! I've had three friends who have tried this, two having back pimples, and one, wanting to scrub off her sunburned skin. She told me that the sunburned skin peeled off amazingly after one use, and she was so happy about it! :)
Be a VMV Beauty! ( or Handsome, for that Matter! )
Supply and Demand , and some Niche for Valentines Day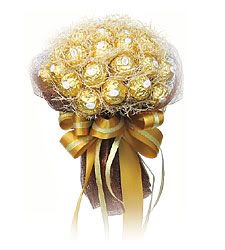 Happy Valentines Day Mr. Ferrero! Gimme some love!
With exactly 7 days before the much-awaited special occasion for lovers, I can't help but wonder how much that special day affects ALOT of people.

Mentally - People start to lose focus, start daydreaming of their fantasy dates
Physically - as their souls leave the physical realm, eyes looking at something yet not really looking ( haha)
Physically ( take two ) - People take extra effort to look extra good, start looking at mirrors ( this is my usual routine, but I can't blame others if they dont do that), some girls apply more makeup, some guys actually SHAVE after a Paleozoic era, and some unhygienic people actually hold their annual baths.
Emotionally - You see alot of smiling faces everywhere, smiling at the wall, smiling at the bathroom sink...it's smile season! ( just, please, brush ya teeth!!! )
....It's like...smile, til it hurts - Smile, til you bump into the wall! hahaha :)

Well, that's about it. I'm not here to insult Valentines Day. It's a sweet day! :) It's also a day economists fearlessly forecast some stuffs ( that are bound to happen anyway)
You can see that for that isolated day of the year, demand curve is similar to that of Christmas - the only difference is, ALL items fly off the shelves during Christmas, and for Valentines, selected items only! ( it's like a sale ( without the discounts )! Selected items vs. all items! haha :) ) Selected items are roses, some flowers , chocolates, I-love-ya cards, and..oh gosh, how can I forget? those cute, adorable , huggable stuffed toys!


So that's why they're priced ridiculously high during Valentine's day, and yet people still buy them. The demand shoots wayyy up ( not as high as Christmas', it was very very impressive last year! ). As they say, the higher the demand ( the more people who are willing to buy ) , the higher the price, given a constant supply ( of course, suppliers try their best to produce/manufacture ALOT but they can't accomodate everyone! roses wither too, u know :( ) . People actually are willing to pay THAT high to please their significant others. I guess there are some things that money can't buy...or rather, too expensive to maintain! hahaha:) (Naughty Juliet! Stop the sarcasm.)

That's the majority's part of the story. I mean, I can already hear those swoons coming, those high-pitched exclaims ...ahhh!!! Eternal mushiness!!!

Okay, so to the niche part.

Way back in college ( as if it was a long time ago, I just graduated! yet I've forgotten all about my Mathematical Economics already. hehe ), as Valentines' day drew near , our org was supposed to do a fundraising project. The girl I was partnered with had a boyfriend, and I had none ( I think I was crushing over some nerd in my Business class back then and I think I was competing with him in terms of grades. HAHA how nerdy ). Well, as expected, my girl-partner wanted to sell fresh flowers, and oh-so-adorable bears. Me, I felt...strange! I was single, how am I suppose to survive that day without humiliation that I'm walking alone to class, to my booth, and while waiting for my driver? Somehow I knew there were girls like me too, dreading the awful day that they have to face...ALONE.
So I felt like Zee Savior of those pitiful girls, and thought of an amazing idea for my fund-raiser - kikay stuffs for girls!!!! I mean, who wouldn't want to splurge on oneself for Valentines' day when everyone's giving gifts to each other? I mean, are you just expected to WATCH those couples as they do the PDA, and other girls walk like contestants of Binibining Pilipinas with their bouquet of flowers, to complete it all, they could just wave, and wear a tiara! hehehe :)
So yes, my fundraiser did well, my business partners and I had a blast. We just realized there were alot of girls who wanted to feel accepted, and not really so alone during the Day of Hearts. I mean yeah, we hear them all the time, "Valentines is not just a day for lovers, but also for friends, family, etc. " So how come it is SO darn magnified that Valentines day is PRIMARILY for lovers? Goodness gracious, I need to shop for makeup, my head's boiling hot! hahaha! :)
So for the girls , there is NOTHING, i repeat, NOTHING to be ashamed about being alone on Valentines day. Dress up your prettiest, and come to school / work breathtakingly beautiful. Start feeling better about yourself! Makeup, is definitely an anti-depressant. Well, so much the preacher that I am, if you're still a little bit depressed ( Zee inevitable emozion ), fine, go hide. Steer away from restos, they're fully booked. Steer away from hotel buffets, you'll see couples everywhere! Go and hide in these places :

- the cosmetics counter ( and TRY to love yourself , buy some makeup, sweetie! Let the Makeup Adviser give you some love! )
- the grocery ( cook yourself up a fabulous feast!, i think couples overprocastinate over this, so they probably bought their supplies earlier! )
- your vanity mirror ( open your makeup book and put on some makeup, OF COURSE ON A CLEAN, AND MOISTURIZED FACE, smile at the mirror, and you'll see that someone actuall y smiles back and is happy about how you look )
- the bed. Light some aromatherapy candles, lie down, count lipglosses, este sheep, and have some sweet dreams!
If you have no one to give to this Valentines day, go shopping for mommy, daddy, siblings, and of course, you! Here's my suggestions for gifts this coming Valentines day! :) ( Uh..I'm turning this into Christmas, but heck, people love gifts anyway )


For the mom :

Bare Escentuals Foundation with SPF 15
It doesn't cling to your wrinkles! It glides, glides, and glides. It takes years off your face with this all-natural mineral makeup. No fillers, just pure minerals that are definitely good for your skin

of course, we can always share! *snicker*


For the dad :
Nu Skin Exfoliant Scrub
Dads hate exfoliating! I mean, MEN! They really need some educating to do about the wonders of exfoliating! They need to slough those dead skin cells off their face. Believe me, it works miracles! They tend to look really fresh, their skin clearer after exfoliating. Nothing beats Nu Skin, with luxurious marine diatoms gently scrubbing off your face without the abrasive ouch. They're spherically-shaped exfoliators! :)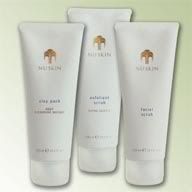 exfoliating is PERFECTLY okay for straight men, okay? :P


For the adorable siblings :
( they're supposed to share everything! )

a set of Lancome Juicy Tubes - they soo look good on the lips! Luscious lips, here we come!!! ( it's not Christmas naman, so I can not splurge too much on em! hehe:) )
these are pefect for teeners who like sheer lippies. They've got some hints of color, though not too much. :)

And last but not the least....
MEEE!!!


MAC Lipglass in Prrrr

Never got over my obsession with the Lychee Luxe ( hot pink never dies! ), but I'm willing to try this one! :)Prr just sounds so sexy, looks so seductive, so here's to the vampilicious me!!! :)It's actually a milky baby pink gloss that goes with any smokey eye makeup! Paris Hilton and I finally have something in common, this lipgloss! ( that was a shallow statement, but I was deeply gratified! haha )
About Me
An economics graduate that always hated her math
but loved her theories.
Believes that Economics can be found in :
- the bathroom
- in front of your vanity mirror
- an in every place beautiful.

Previous Posts

Archives
Best Beauty Deals!
Blogs I Read
Mystical Minds
The Vanity Affair
MuseBay
Travel Pitstops
PennyLane
Glam-O-Cam
The Pinoy Cook
Suzaku Lace
Yugatech
Jon Limjap
Mineral Beauty
Bryan Boy
SpoiledChiq
Mr. Expat
JuiceLog
Credits
Talk To Me!
design by maystar
powered by blogger